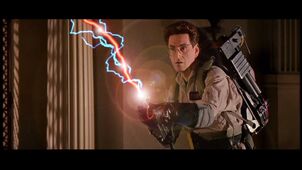 The Proton Stream emits from the
Nuetrona Wand
when left clicking with the wand in your hand.
Appearance
Edit
The Proton Stream appears to be a yellowish-orange lightning bolt with a dark-orange glow surrounded by turquoise volts of electricity. At the bottom, where the stream and the Nuetrona Wand meet, is a white glow that spurts out light-yellow sparks.
Shoot the Proton Stream at the ghost. If the stream hits the ghost, it'll start to decrease it's spectral health . Once all the spectral health is redused completely, the proton stream will loop and wrap around the ghost creating a cage that the ghost can't escape unless you release the left mouse button, deactivating the stream. Then you can place down the Trap . All ghosts are programed to avoid the trap, so they'll push in the opposite direction of the Trap , giving you more of a struggle getting the ghost into the it. All ghosts have their own Proton Stream resistance level. When a ghost is fighting to get away from the trap, you'll be stuck in "Cinimatic Mode"
While blasting the proton stream, you're stuck in "sneak mode" untill you release.
Multiple people can captivate a ghost at once.